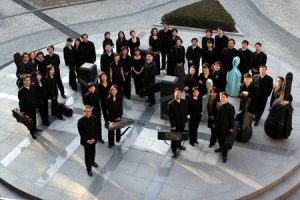 Biography: The Korean Chamber Orchestra, founded in 1965 in Seoul by cellist Bong-Cho Jeon, has established itself to be the leading chamber orchestra in the country. Since 1979, when Min Kim became its new director, the Korean Chamber Orchestra has been establishing a growing international reputation by embarking on numerous international tours to increasing critical and popular acclaim. It has given over 470 concerts in Korea, the U.S., Canada, Germany, Italy, Croatia, Poland, Denmark, Austria, France, Finland, Estonia, Luxemburg, Czech, Japan, Hong Kong, Thailand, Malaysia, China and Singapore. Its nine-city tour of the United States and Canada in 1995, arranged by Columbia Artists Management Inc. received outstanding reviews from such prestigious publications as the New York Times, Los Angeles Times, Washington Post and the Toronto Star. The group's seven-city tour of Europe in 1997 received similar praise from German newspapers such as the Badische Zeitung and the Mindelheimer Zeitung. It has performed with internationally renowned soloists such as Maxim Vengerov, Krzysztof Penderecki, Zakhar Bron, Arto Noras, Ralf Gothóni, Nobuko Imai, David Geringas, Heinz Hölliger, Salvatore Accardo, Marisa Robles, Felix Ayo, Jean-Pierre Wallez, Cyprien Katsaris, Kyung-Wha Chung, Young-Uck Kim, Young-Ok Shin, Kwang-Chul Youn. In addition, the group has released 14 CDs, encompassing a wide range of repertoire, which have established a new standard of excellence in the field of classical music.
In 1999, the KCO made its Salzburg debut in Austria and participated in the UNESCO Concert for Peace in Paris where it was officially designated as a UNESCO Chamber Orchestra for Peace. During the following year, the group successfully completed one-month tour of Poland-Croatia-Germany and performed in a special concert at the UN General Assembly Hall where it was designated as a UN Chamber Orchestra. In 2001, The KCO went on its European tour, as the first Korean artistic group, at Chamber Music Hall of the Berlin Philharmonie. The critics praised the ensemble as the first class orchestra with resilient tonal colors and precise ensemble work.
It finished successfully a performance in the famed Tivoli Concert Hall in Copenhagen (2002) and European tour in Italy and Germany with a favorable criticism (2003). To celebrate its 40th Anniversary in 2005, it participated in Heidelberg Chamber Festival(Germany), Naantali Music Festival(Finland), Rheingau Festival(Germany). For the recent 5 years(2005-2010) KCO has performed to acclaim in international prominent festivals such as International Mozart Festival(Estonia), Beethoven Easter Festival(Poland), Rheingau Festival, Naantali Music Festival, Echternach Festival(Luxembourg), Max-Reger-Tage Festival, Markgräfler Festival,
Croatia Festival, and Ascoli Piceno Festival(Italy), etc. In 2010, KCO celebrated the 45th anniversary and the 100th concerts in abroad, and until 2013, KCO is engaged more concerts in Russia, China, United Kingdom, Brazil and Poland to name a few.